Review:
• Paperback: 384 pages
• Publisher: William Morrow Paperbacks (June 19, 2018)
Have you ever read a book that made you ugly cry? I definitely was not prepared for all the feels. Boardwalk Summer follows the path of two amazing women living in different timelines in the charming Santa Cruz beach community. Meredith Jaeger perfectly captures the tone and ambiance of each time period. Her attention to detail is what really brought this book to life.
Each protagonist has such a distinct voice. This is one of the few dual pov books I've read that has been done so well. I really felt like I was with Violet every step of her journey in the 1940's as well as Mari's in the present day. I found myself completely invested in each woman's life. I absolutely love the strength each of these characters has and how they manage to preserver even when it seems all odds are stacked against them.
Mari's story especially resonated with me also being a single mom. It's not often I finish a book that wrecks me emotionally and yet ends on a high note. But Boardwalk Summer has everything. It's equal parts mystery, heartache and love. An amazing summer read!
Synopsis:
In this new novel from the USA Today bestselling author of The Dressmaker's Dowry, two young women two generations apart discover the joy and heartbreak of following their dreams. Aspiring Hollywood actress Violet makes a shocking choice in 1940, and seventy years later, Mari sets out to discover what happened on that long ago summer.
Santa Cruz, Summer 1940: When auburn-haired Violet Harcourt is crowned Miss California on the boardwalk of her hometown, she knows she is one step closer to her cherished dream: a Hollywood screen test. But Violet's victory comes with a price—discord in her seemingly perfect marriage—and she grapples with how much more she is willing to pay.
Summer 2007: Single mother Marisol Cruz lives with her parents in the charming beach cottage that belonged to her grandfather, Ricardo, once a famed performer on the Santa Cruz Beach Boardwalk. Drawn to the town's local history and the quaint gazebo where her grandparents danced beneath the stars, Mari sells raffle tickets at the Beach Boardwalk Centennial Celebration, and meets Jason, a California transplant from Chicago.
When Mari discovers the obituary of Violet Harcourt, a beauty queen who died too young, she and Jason are sent on a journey together that will uncover her grandfather's lifelong secret—his connection to Violet—a story of tragedy and courage that will forever transform them.

Purchase Links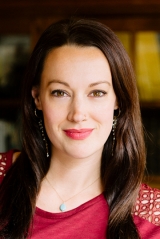 About Meredith Jaeger
USA Today bestselling author Meredith Jaeger was born and raised in the San Francisco Bay Area, the daughter of a Swiss father and an American mother. While working for a San Francisco start-up, Meredith fulfilled her dream of writing a novel, the result of which was The Dressmaker,s Dowry. Meredith lives in Alameda with her husband, their infant daughter, and their bulldog.
Find out more about Meredith at her website, and connect with her on Facebook, Twitter, and Instagram.